This post may contain affiliate links. Please read my disclosure.
Any time I have new breakouts, one of my first go-to remedies is tea tree oil for acne. Tea tree essential oil is excellent for reducing the size of the breakout, redness, and even helping it heal faster.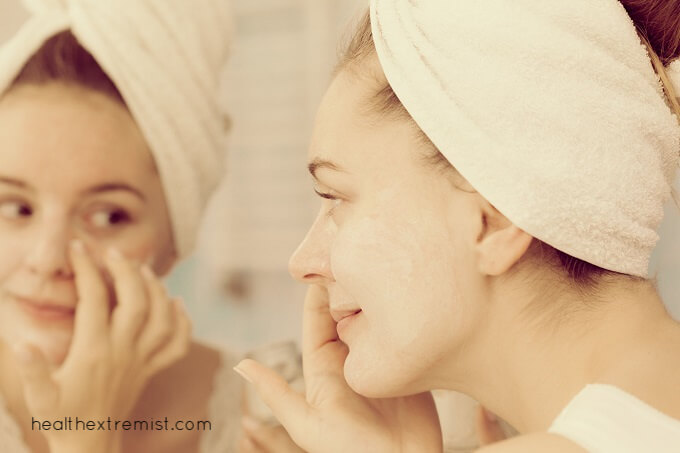 Almost everyone I know has struggled with acne at some point in their life, including myself. With the vast majority of over the counter products that are available, it seemed impossible to find something that really worked. That was until I started using tea tree oil for acne.
Learning how to use tea tree oil for acne was a lifesaver because there are endless ways you can use it to prevent acne depending on your skincare needs.
What Tea Tree Oil Does:
Tea tree oil comes from the leaves of the Melaleuca tree. The oil naturally has antiseptic and antibacterial properties. It is unique because it can fight skin impurities without harming the epidermis. These properties are why tea tree oil has been used for years to help heal skin imperfections.
Tea tree oil is excellent for all types of acne and acne scars. It can help unclog pores and sebaceous glands to prevent acne from forming. It also works wonders on pesky blackheads and whiteheads.
Studies have found that tea tree oil is just as successful at reducing the number of inflamed breakouts as benzoyl peroxide. It can be very effective for helping those with acne prone skin.
How to Use Tea Tree Oil for Acne:
What You Need:
Optional Ingredients:
How You Can Use It:
I love sharing how to use tea tree oil for acne because there are so many different ways to utilize tea tree oil in your own skincare routine.
Remember, pure tea tree oil by itself can be too strong or irritating for certain skin types. Always test a small amount on your inner forearm before applying tea tree oil (or any new product) to your facial skin.
The easiest way to use tea tree oil for acne is all by itself. To use tea tree oil by itself simply place a drop or two on a cotton swab and apply directly on troubled skin.
1. Make a Spot Treatment:
If you prefer diluting your tea tree oil, you can make a quick spot treatment with aloe vera gel. To do this, simply mix 1-2 drops of tea tree oil with 2-3 teaspoons of aloe vera and apply to your skin as needed. To specifically target acne scarring, mix a tablespoon of honey and two drops of tea tree oil together and apply to affected areas.
2. Make an Acne Astringent:
An astringent rinse is another a great way to use tea tree oil all over the face. Mix one cup of water and 3-4 drops of tea tree oil. Then rinse your face with the mixture once a day at most.
3. Add Tea Tree Oil to a Face Mask
Another variation is to add a couple of drops of tea tree oil to your favorite face mask. Whether the mask is homemade or store-bought, just add a few drops to gain the acne-fighting benefits of tea tree oil.
4. Tea Tree Oil for Body Acne
If you've ever wondered how to use tea tree oil to fight acne all over the body, add some next time you take a bath! Add fifteen drops of tea tree oil and two tablespoons of your preferred carrier oil (I prefer coconut oil) to running bathwater. Then just sit back and relax as the tea tree oil works to calm irritated skin.
How Tea Tree Oil is Working for My Acne:
I typically use tea tree oil to help prevent new breakouts and also heal any breakouts I have. I especially use it anytime I have cystic breakouts as it seems to be the only thing that helps them heal faster.