This post may contain affiliate links. Please read my disclosure.
This is a quick and easy recipe for paleo oven fried chicken. Its crispy, crunchy and tastes just like fried chicken, except, its much healthier!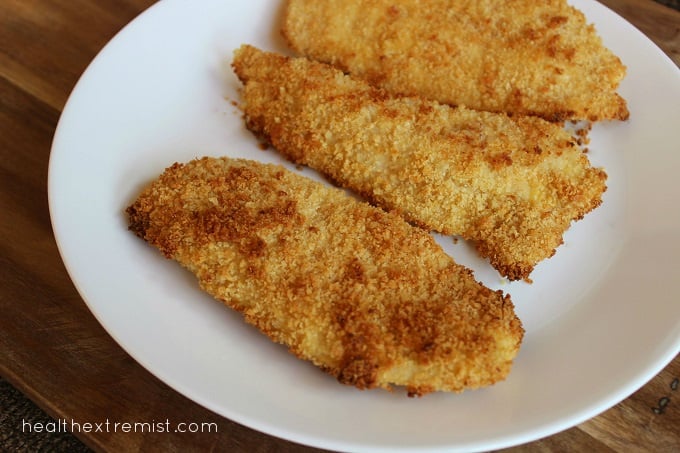 Making plain chicken breasts all the time can just get boring, plus I wanted to try to make something that had some crunch. I honestly, didn't think making paleo oven fried chicken would turn out that great. I was very pleasantly surprised to experiment making it and see how amazing it comes out.
We make this at least twice a week every week now. It tastes amazing and its healthy!
The only flour used in this recipe is coconut flour. So, the oven fried chicken is completely gluten free, grain free, dairy free, low carb and paleo!
This recipe works with fish too. We've done the same steps with fresh cod and it comes out fantastic!
How to Make Paleo Oven Fried Chicken
I originally came up with idea for making paleo oven fried chicken after my mom made some gluten free panko chicken. It was so delicious, I thought, why can't I make a paleo version of paleo panko chicken?
I've tried making this recipe several different ways. I first experimented with making it in an air fryer, then in the oven. I also tried adding olive oil and milk to the eggs. Although, I found it to come out best without them. Sometimes simpler is better. I think I've finally got the recipe for paleo oven fried chicken perfected, so I wanted to share it with you.
Many have been asking for this recipe since I'm always posting pictures of our dinner with the paleo panko chicken. I'm always posting them because we seriously eat it all the time! We usually make it for dinner and have the left overs for lunch the next day.
Why I like to Make Paleo Panko for this Recipe
A lot of recipes for paleo oven fried chicken call for just adding almond flour and a few spices to your chicken breasts. It's tastes good, but I never get any crunch with that. They don't come out crispy or crunchy.
This recipe is completely different because it is using panko like bread crumbs instead of just plain flour. Panko breadcrumbs are often used in Asian cuisine. They are crispier and crunchier than regular breadcrumbs. Panko breadcrumbs are made from chopping an entire loaf (crust included) into flakes. So, I did the same thing in this recipe and the paleo oven fried chicken comes out super crispy and crunchy! So satisfying!
The only downside is that it does take a little longer to make, but seriously so worth it!
You will need some sort of paleo bread for this recipe to make the paleo panko breadcrumbs. You can use homemade paleo bread or store bought paleo bread. I prefer to make my own paleo bread and always have a loaf on hand in our freezer. Any kind of paleo bread should work for this recipe.
We're just going to turn the loaf of bread into panko breadcrumbs and cover the chicken with it.
Making Paleo Panko Bread Crumbs for Oven Fried Chicken
I've made bread cubes form paleo bread before to make paleo stuffing. So, this is pretty similar, except you need to add the bread cubes to either a food processor or blender to get them ground up pretty small. You can buy a small food processor for under $20.00, that works awesome for this.
The paleo panko breadcrumbs are pretty easy to make.
You're going to start with a loaf of paleo bread (any kind will work). I like to use my coconut flour loaf bread. Then you're going to put it in a food processor or blender to chop it up into small breadcrumb pieces. You want them to be pretty tiny, similar to regular panko breadcrumbs.
Next, I just spread all those breadcrumbs out on a cookie sheet and dry them in the oven for about 10 minutes. Sometimes I coat them with a little olive oil, although that's not necessary.
Once the breadcrumbs are completely cooled you can store them in a container to be used throughout the week. That way you have them on hand. We make them once a month, then use them a couple times throughout the week. It saves time because we don't have to make them again.
We love having this paleo oven fried chicken for dinner and even for lunch. I often slice it and put in on some paleo bread with avocado and veggies.
Adding Spices to this Recipe
I'm not really into too many spices, so this recipe is for just plain paleo oven fried chicken. You can add any spices you like to use on chicken. Like, black pepper, garlic powder or seasoning. Just mix them in with the paleo breadcrumbs before coating the chicken in them. Have fun experimenting with adding different spices to the breadcrumbs.
Crispy Paleo Oven Fried Chicken -
Easy to make super crispy and crunchy paleo oven fried chicken. This recipe shows you how to make paleo panko breadcrumbs and coat the chicken in them for the best ever oven fried chicken.

Print
Pin
Rate
Ingredients
5 to 6

chicken breasts or tenders

thinly sliced

1

cup

paleo panko bread crumbs

(see below how to make it from paleo bread)

2

eggs

1/4

teaspoon

sea salt
Instructions
To Make Paleo Panko Breadcrumbs
Take one to two loaves of paleo bread and put it in a food process or blender. Chop until it is a ground consistency. I make my own paleo bread. You can use any kind of paleo bread - homemade or store bought.


Spread the bread crumbs on a cookie sheet.


Bake at 300 degrees for about 10 minutes or until lightly browned. Let cool.

To Make Paleo Oven Fried Chicken
Crack two eggs into a bowl and whisk.


Near the bow, place a plate and pour the paleo panko bread crumbs (that you just made) on the plate and spread them out on the plate.


Take a thinly sliced chicken breast, dip it in the eggs making sure it is fully saturated.


Then place it on the plate with the bread crumbs. Coat both sides of the chicken breast, flipping it several times in the bread crumbs.


Use a meat pounder to push the bread crumbs into the chicken breast.


Grease a cookie sheet or glass pan with a little olive oil.


Place the chicken breast on the pan and repeat these steps for all the slices of chicken breasts.


Bake at 425 degrees for 30 to 40 minutes. After 15 minutes, turn over the chicken breasts.

Notes
You may need to increase or decrease the cooking time depending on the thickness of your chicken breast slices.
Nutrition
Serving:
1
slice of chicken
|
Calories:
348
kcal
|
Carbohydrates:
8.5
g
|
Protein:
39.9
g
|
Fat:
16.5
g
|
Saturated Fat:
8.4
g
|
Cholesterol:
129
mg
|
Sodium:
258
mg
|
Potassium:
347
mg
|
Fiber:
2.7
g
|
Sugar:
4
g
|
Calcium:
20
mg
|
Iron:
1.6
mg