This post may contain affiliate links. Please read my disclosure.
This paleo coconut flour cake is perfect for a birthday or any celebration! The only flour used in this recipe is coconut flour. The cake and frosting are paleo, gluten free, and dairy free.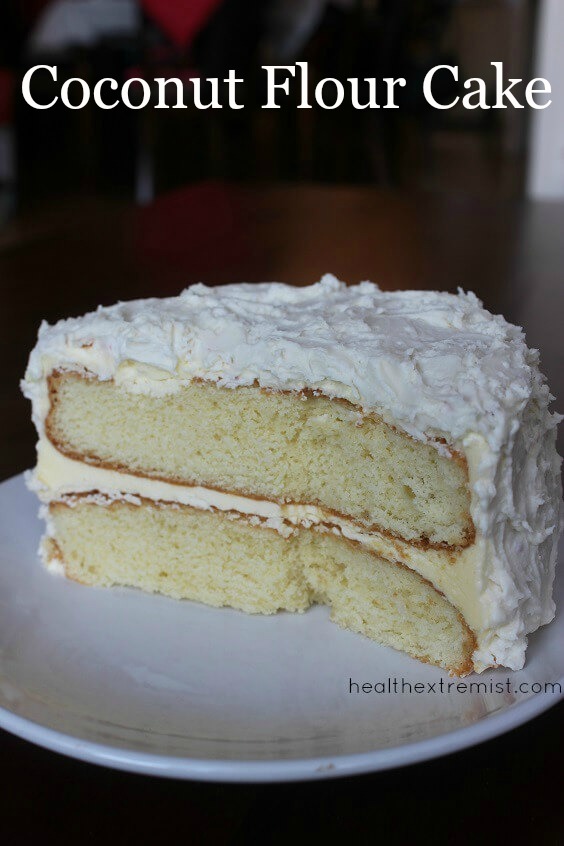 My birthday is just around the corner and for the past few years I've been eating either chocolate paleo cake ( I use the same recipe as my brownie recipe just put it in a cake pan) or paleo banana bread. Since you can't buy a coconut flour cake anywhere at a store, I decided to try out making my own vanilla paleo coconut flour cake. I knew it would be a difficult task to make it and have it taste good without too much sugar or chocolate. I've found it's easy to make any paleo recipe taste good when you add in chocolate. But I guess that's because chocolate always makes things taste better!
This paleo coconut flour cake is delicious. It is one of the healthiest birthday cakes you can make!
It is also gluten free, dairy free and nut free, which makes it a great option for anyone with food sensitivities or allergies.
Why I Love Baking Desserts with Coconut Flour
As you may know, I bake a lot of my desserts and breads with coconut flour and sometimes almond flour. The only flour included in this paleo coconut flour cake recipe is coconut flour.
Coconut flour is made from pure coconut. It is one of the healthiest flours to bake with. Coconut flour is high in fiber and healthy fats.
Coconut flour contains many nutrients while being low in calories. Coconut flour is also non-inflammatory and does not cause digestive issues as conventional flour. Additionally, eating this type of flour will not spike your blood sugar levels because it is rated as low on the glycemic index, which is great for anyone who is trying to maintain a healthy lifestyle, has diabetes or skin conditions such as acne. For me, I always notice that my skin breaks out more when I eat foods that spike my blood sugar levels.
Making this Paleo Coconut Flour Cake Recipe
When you compare baked goods to conventionally baked goods, you'll notice right away that coconut flour based breads and cakes do not rise nearly as much. I always add a mixture of apple cider vinegar and baking soda to my recipes to help the cake to rise more. The reaction between apple cider vinegar and baking soda cause the cake to rise a little more than without it. You can leave the apple cider vinegar and baking soda out of the recipe though and it will still turn out great.
One of my favorite things about birthday cakes is making cakes with multiple layers and some delicious frosting in between each layer. So, for this paleo coconut flour cake recipe, I decided to make it a double layer cake.
You can make this cake with just one layer too! I just love to have a very thick birthday cake with the frosting in the middle.
Paleo Coconut Flour Cake Recipe
Ingredients for cake:
(Please note ingredients are for a one layer 8 or 9 inch cake. You'll need to make two for a double layer cake.)
Ingredients for Frosting:
Instructions:
1. Combine all dry ingredients in one bowl and all wet ingredients in another bowl.
2. Add the dry ingredients to the wet ingredients slowly while stirring.
3. Grease cake pan with coconut oil or butter.
4. Pour the batter into the cake pan. I use a 8 or 9 inch round pan (either will work).
5. Bake at 350 degrees for 25 to 30 minutes or when lightly browned.
6. For frosting: In a dish, mix coconut butter and honey. Let cake cool before frosting it.
For a Two Layer Coconut Flour Cake
1. Make two 8 or 9 inch round cakes using instructions listed above and put frosting between layers.