This post may contain affiliate links. Please read my disclosure.
These fluffy paleo blueberry pancakes are the ultimate delicious breakfast food and healthy too!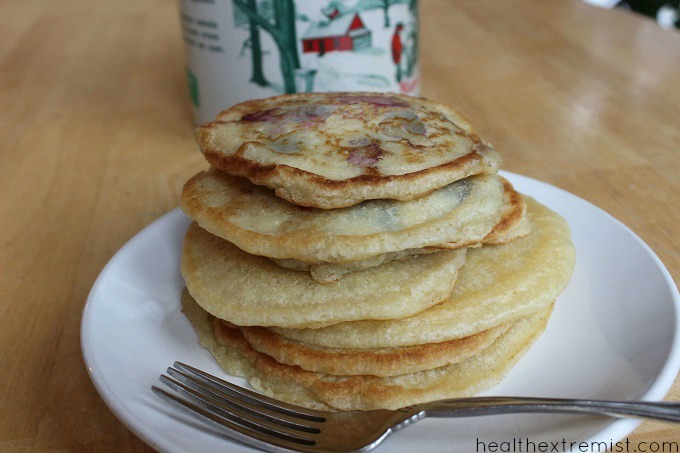 I love pancakes! For some reason pancakes are always hard to make. I remember even when I used to use a pre-made baking mix many years ago I had a hard  time flipping them just right. I don't know how some people get pancakes to come out so perfect looking! If you're one of those people who know how to make perfect looking pancakes, I'd like to know your secret. I'm still working on it! I made these paleo blueberry pancakes on Sunday and decided to take some pictures of them so I could post the recipe.
I usually make these paleo blueberry pancakes once a week to switch up my breakfast and have something other than eggs. I love scrambled eggs, sunny side eggs, and omelets, but it's nice to have something different sometimes too!
I make a large batch of this recipe and freeze any leftovers so I can reheat them during the week or the following weekend.
This recipe for paleo blueberry pancakes uses coconut flour as the only flour. Coconut flour is one of my favorite flours to cook with! I always use it for baking paleo bread and muffins.
These paleo blueberry pancakes are gluten free, grain free, dairy, free, and nut free. So they're perfect for anyone with food sensitivities or allergies.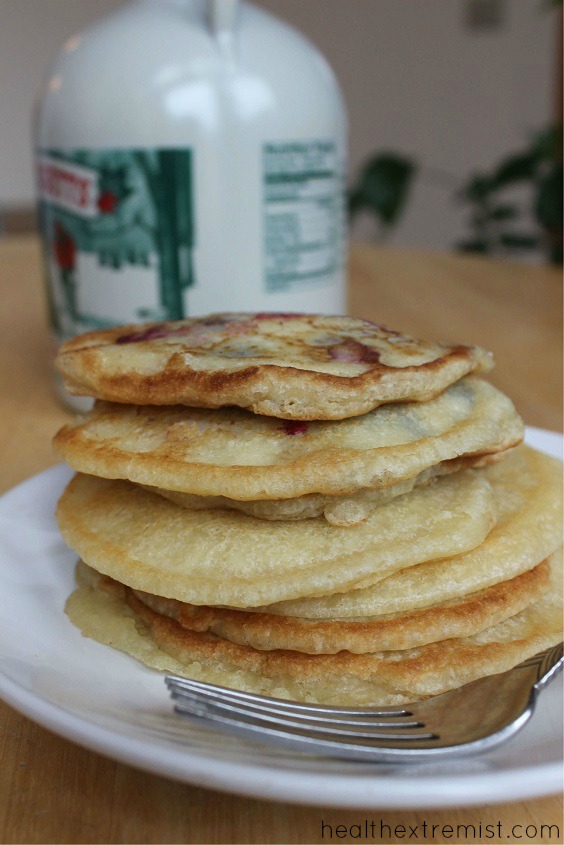 Making Paleo Blueberry Pancakes
I always make pancakes on my stove top using a skillet with some coconut oil. I've actually never tried making pancakes on a grill before. So if you try this recipe for paleo blueberry pancakes and cook them on a grill, let us know how they turn out. I just got a teflon free George Foreman grill for Christmas, but haven't had a chance to try cooking pancakes on it yet. Maybe it's easier to flip pancakes and get them to cook more evenly on a grill?
My Go-to Oil for Cooking Pancakes
For pretty much all my recipes, coconut oil is my go-to cooking and baking oil. If you can have dairy, another great option for cooking these paleo blueberry pancakes is to use grass-fed butter. I recently added a small amount of dairy back into my diet.
Olive oil is great for cooking too, but I don't usually use it for pancakes unless I run out of coconut oil.
Paleo Blueberry Pancakes Recipe
Ingredients:
Directions:
Mix all wet ingredients in one dish and all dry ingredients in another dish.
Slowly add the dry ingredients to the wet ingredients.
Add coconut oil or butter to your skillet and turn the heat on low to medium.
Pour/scoop the batter on to your skillet. I make two at a time that way they are easy to flip.
After I put the batter on the skillet, I use my fingers to drop 3 to 6 blueberries on each pancake. Then flip them.
Cook until lightly browned on both sides.
Let cool and add a little bit of pure maple syrup to taste.
Add Maple Syrup to Taste
I love adding a little bit of pure maple syrup to these paleo blueberry pancakes. Make sure you use pure maple syrup. Pure maple syrup can be pricey, but it's worth it! Most maple syrup is made of artificial ingredients such as high fructose corn syrup, preservatives, and caramel color to make it look like the real stuff.