This post may contain affiliate links. Please read my disclosure.
These coconut flour chocolate cupcakes are soft, fluffy and have a delicious chocolate flavor. They are gluten free, dairy free, and paleo!
I love just about anything with chocolate! Luckily, it's pretty easy to make coconut flour chocolate cupcakes taste amazing! After making a recipe for vanilla paleo coconut flour cupcakes, I thought I should make a chocolate version!
Vanilla cupcakes are delicious, but if I had to choose between vanilla or chocolate, my favorite is most definitively chocolate!
How I Altered this Coconut Flour Chocolate Cupcake Recipe
I originally planned on using my vanilla paleo cupcake recipe to go off of and alter, but I found it easier to just modify my all time favorite paleo brownie recipe for cupcakes. I changed the amounts of a few ingredients and altered the baking time, and wow, these cupcakes came out delicious!
This recipe would also work for making a small paleo coconut flour chocolate cake too. I've made it for a few birthday parties and it turns out great. The baking time is just a little longer.
The Ultimate Taste Test
When you've been eating paleo foods for quite awhile, you get used to not having a high amount of sugar and the taste of coconut flour/almond flour compared to conventional flours. For a lot of recipes, it's hard to make the "paleo" version just as good as a conventional recipe. Often times, the paleo version tastes eggy or the consistency is not perfect. This recipe for coconut flour chocolate cupcakes is the exception!
Seriously, you cant tell that these coconut flour chocolate cupcakes are paleo! They taste exactly the same as a regular chocolate cupcake. I'm so used to paleo that sometimes I'm not the best taste tester.. my family members (who do not eat paleo) are always the best taste testers because I often try to see if they can tell if my recipe is paleo or not.
When I made this recipe for coconut flour chocolate cupcakes and left it out as a dessert for our get-together, everyone loved the cupcakes and they couldn't even tell that they were gluten free or paleo. Everyone was surprised when I told them that they were made with coconut flour!
I think this is because the rich chocolate flavor really makes these cupcakes taste amazing! The consistency is perfect too, as they are fluffy and just moist enough.
Sweetened Naturally with Raw Honey
I always try to make the healthiest version of a recipe, which means finding healthy alternatives to regular white sugar. Thus, most often, I use raw honey or bananas as a natural sweetener for recipes.
I used raw honey in this recipe for a natural sweetener. It makes the cupcakes taste just sweet enough.
I prefer not to use regular white sugar in recipes because it is high on the glycemic index and is linked to an increased risk of heart disease and gut imbalances. Additionally, it can be hard to digest too.
Paleo Frosting for Your Cupcakes
These coconut flour chocolate cupcakes taste great with and without frosting. If you'd like to add a paleo friendly chocolate frosting to the top of your cupcakes (like pictured above), you can easily make it by mixing coconut butter with raw cacao. I use a ratio of 2:1 for the coconut butter to raw cacao powder.
The paleo chocolate frosting is yummy and easy to spread.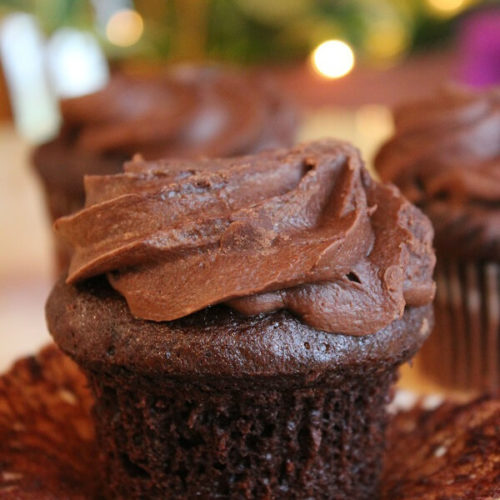 Paleo Coconut Flour Chocolate Cupcakes
These coconut flour chocolate cupcakes ares soft, fluffy, moist and so delicious! They are paleo, gluten free, grain free, and dairy free. The cupcakes are sweetened with natural raw honey.

Print
Pin
Rate
Instructions
Combine all ingredients in a bowl and mix well.


Scoop the batter into baking cups/muffin pan.


Bake at 350 degrees for 20 minutes or until a toothpick inserted in the middle comes out clean.

Nutrition
Serving:
1
cupcake
|
Calories:
149
kcal
|
Carbohydrates:
14.6
g
|
Protein:
2.9
g
|
Fat:
9.6
g
|
Saturated Fat:
7.1
g
|
Cholesterol:
82
mg
|
Sodium:
143
mg
|
Potassium:
39
mg
|
Fiber:
0.3
g
|
Sugar:
14.1
g
|
Calcium:
10
mg
|
Iron:
0.5
mg