This post may contain affiliate links. Please read my disclosure.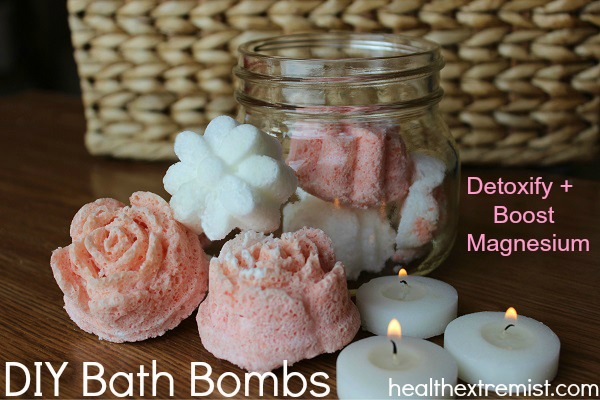 Are you a shower person or a bath person? I love baths, but I haven't had the time the past few months and I really missed them, they are so relaxing! This past week though, I caught some type of virus, so I took a bath every night to reap the benefits of Epsom salts, which help detoxify, boost the immune system, relieve aches and increase magnesium. In addition to adding Epsom salts to my baths, I also like to add a little baking soda, coconut oil, and essential oils for the benefits. What's the perfect way to add all these fantastic ingredients to your bath? A great bath bomb! They are very popular lately and they sound very cool, like something you would get at an upscale spa. But you can make your own with this bath bomb recipe, which includes all the beneficial ingredients I mentioned above!
Beneficial Ingredients in my Bath Bomb Recipe
This bath bomb recipe combines all of the beneficial ingredients into one fizzy ball. I love to keep them in a glass mason jar next to my tub, so when I'm ready for a relaxing bath, all I need to do is throw one in.
So you may be wondering what's in these bath bombs, the primary ingredients are baking soda, Epsom salts, citric acid, and coconut oil. Here's each ingredient with it's benefits:
Baking Soda– I love to add some baking soda to my bath because it aids in drawing out toxins from your body. Not only does it remove toxins, it also aids in alkalizing your body, helps treat common skin problems, hemorrhoids and yeast infections.
Epsom Salts– Many people are deficient in magnesium and Epsom salt baths are a great way to increase magnesium levels! When you bathe in Epsom salts, the magnesium and sulfates are absorbed in the skin, pulling out harmful toxins from your body! Some of the health benefits of magnesium include; fighting inflammation, increasing blood flow and improving oxygenation in your body. Just some of the conditions Epsom salt baths help are; sprains and bruises, athlete's foot, toenail fungus and gout.
Coconut Oil– There are so many benefits of coconut oil, that's why I included it as an ingredient in my bath bomb recipe! You can get many health benefits by adding it to your bath. Not only does it help your body by improving your immune system, in the bath it helps moisturize and smooth your skin. It is also very soothing and healing for many skin conditions such as eczema and acne!
Citric Acid/ Cream of Tartar– For this bath bomb recipe I use citric acid, but I read that many use cream of tartar in place of this ingredient and it works just as well. Citric acid gives the bomb it's fizzies and it is often used as a food additive. It is a natural acid that is found in fruits and vegetables such as lemons and it is what gives fruits or candies a sour taste.
Optional Ingredients:
Essential Oils– I added lavender oil to this bath bomb recipe because it is a soothing oil as it's aroma helps combat stress and anxiety. Many people spray a mist of lavender oil on their pillows to help them fall asleep.
Food Coloring– Without any food coloring these bath bombs are a nice bright white color. You can add beet juice to the mixture or a few drops of natural food coloring to get any color you would like.
Easy and Save Time
Not only is this bath bomb recipe easy to make, but it saves the hassle of adding all of these separate ingredients to your bath each time you want to take one.
When you're ready for your bath all you need to do is pop one of these bath bombs into your tub, watch it fizz and hop in. They are such a time saver!
Here's what you'll need to make the bath bombs:
Bath Bomb Recipe
Ingredients:
Directions:
1. Mix all dry ingredients in a bowl.
2. Mix all wet ingredients in a separate container.
3. Slowly add the wet ingredients to the dry while stirring. You may see it fizz a little when they begin to mix, but that's okay just keep stirring. Once they are fully mixed, the mixture should feel like damp sand.
4. Optional: add in beet juice/natural food coloring and mix well.
5. You'll need something to form the bath bomb in such as a mold. I used a muffin pan that had pretty flower shapes. Once you have your mold, add a few drops of olive oil to each individual muffin molds and rub it around the area. This will allow the bombs to come out easier. (I tried using coconut oil on some of them, but what a mess! I couldn't get them out.)
6. Add the bath bomb mixture to the muffin pan and press in firmly. The bombs will expand, so don't fill each muffin area to the top.
7. Leave out at room temperature for at least 3 hours or until dry/hard to touch. Depending on their size, you may need to leave them out overnight.
Have fun making this bath bomb recipe and enjoy your bath bombs!